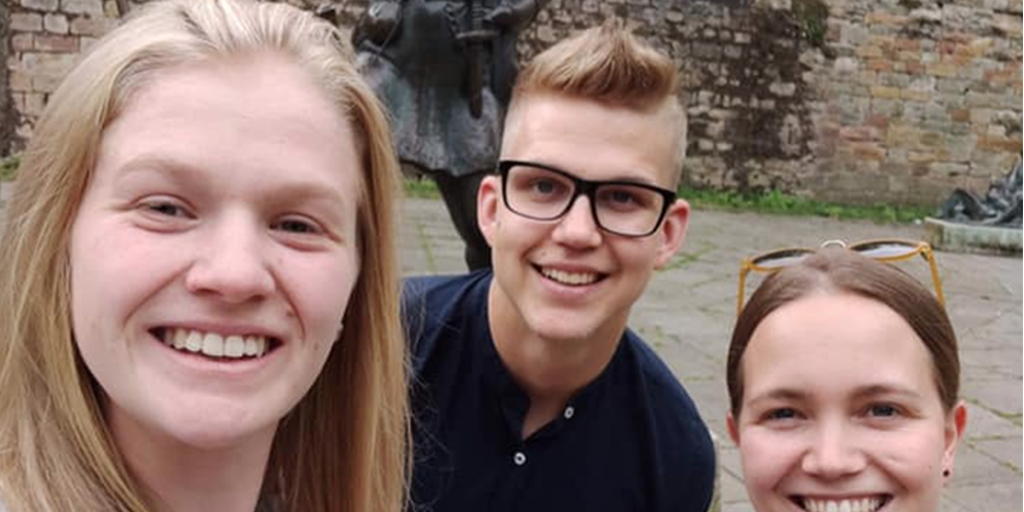 Today saw the second site visit for the three chiropractic interns participating in the 8-week summer internship scheme, affiliated with Versus Arthritis.
Sam, Perttu and Savanna visited the prestigious University of Loughborough. Here's what Savanna had to say about her day:
"Today we concluded our second site visit; University of Loughborough, National Centre for Sport & Exercise Medicine. This University is ranked #1 world-wide in sports related studies, and has the Powerbase to prove it! My thoughts on today: as an evidence informed clinician, it can be easy to take all the hard work and research that goes into the studies that we refer to for granted. Meeting today's professors, post docs and PhD students and hearing about their captivating work around neuromuscular performance was an inspiring view into the life of a researcher"
…and Perttu describes some of the fascinating research that is being conducted at this institution:
"Versus Arthritis research internship programme day 2 at the Loughborough University today was great! We got to visit the National Centre for Sport & Exercise Medicine (NCSEM) building, got to meet their brilliant research team who are doing some interesting research and provided us presentations of the work they've got going on including their neuromuscular research, and research on strength training and its applications for the management of osteoarthritis. Also, we were shown around their labs and the amazing Powerbase gym and elite performance facilities. Today again very much highlighted the fact that resistance training is very important and we probably should all be doing it at least in some form, and prescribing it in clinical practice, particularly for the management of osteoarthritis! My personal favourite presentation of the day was "The cell physiology of muscle wasting", which helped to understand and give better context to what happens in cellular level in conditions like sarcopenia, which is becoming a major public health issue in ageing population, and how to combat the skeletal muscle loss and function with resistance training together with protein rich nutrition. All in all very fascinating stuff and well within my personal interests, thus today was overall very good!"
Thoughts echoed by Sam:
"Fantastic day at Loughborough University for the 2nd site visit of our summer internship with Versus Arthritis. Really enjoyed the lectures about the impact of exercise on cartilage (spoiler: it has a beneficial impact) and how explosive strength training could potentially improve adherence and muscle strength in older adults. Can really start to see how this awesome research can be applied to future clinical practice. Amazing facilities for both research and sports performance all around and a great experience. Great to see all the other interns and looking forward to tomorrow in Nottingham! Thanks to the Chiropractic Research Council for their continued support for this programme 🙏💪 @ Loughborough University"
It doesn't stop there – as Sam says, they're off to University of Nottingham tomorrow to meet more professional researchers conducting groundbreaking research – we can't wait for tomorrow's update!
Huge credit to Sam, Savanna and Perttu who only graduated just this week(!!!), but are now rubbing shoulders and learning from (literally!) some of the world's best MSK, sports and exercise researchers. This is a fantastic opportunity to develop their research skills at the start of their career, and build important links with the wider healthcare research community – new friends and colleagues they'll doubtless work with for years to come.
Our thanks to their supervisors at AECC University College and Welsh Institute Of Chiropractic, and of course, all of you who support the CRC with your generous donations and contributions.
In particular, thanks to all the British Chiropractic Association members – each and every one of you generously donates to the CRC – and without your annual contribution, none of this would be possible!