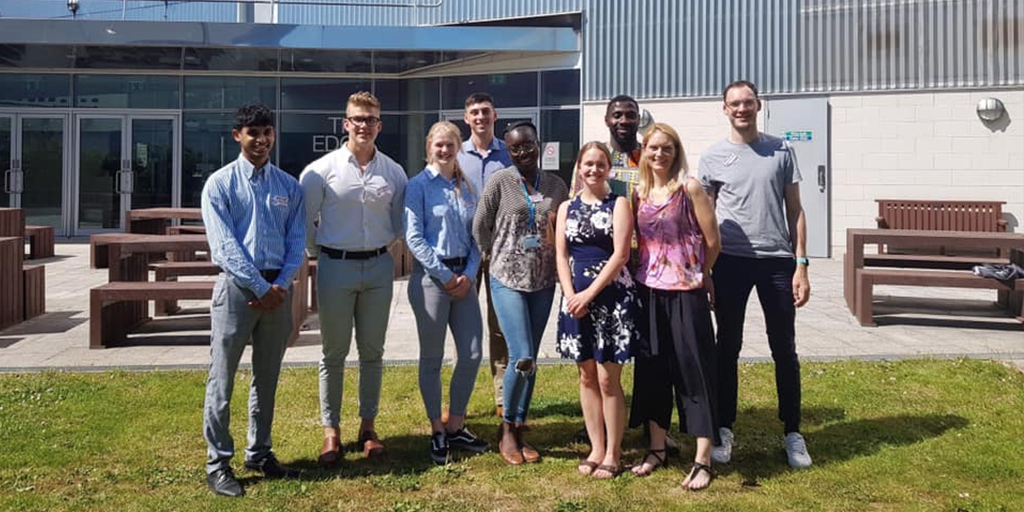 Congratulations, well done and good luck to the three chiropractic interns, Savanna Koebisch, Sam Ogilvie and Perttu Riipinen who started their 8-week research internship this week.
Part of a multi-disciplinary research internship programme, run in affiliation with the Versus Arthritis Centre for Sport, Exercise and Osteoarthritis Research at the University of Nottingham, this scheme will enable new graduates Sam, Savanna and Perttu to undertake their own research projects and gain essential research skills, vital for any clinical research career. As well as undertaking their own research projects, they will attend a research training day each week at one of the six associated universities, mixing with fellow MSK graduate interns and professional researchers.
On Thursday, they attended the Induction Day at the University of Bath, and by all accounts had a thoroughly enjoyable and informative day!
Here's what Welsh Institute Of Chiropractic graduate, Perttu had to say about his visit to Bath, "…it was an amazing experience at the Versus Arthritis research internship induction day in the University of Bath, Centre for Sport, Exercise and Osteoarthritis Research. As the name implies, we were presented with some great information around the topic of exercise interventions and management of osteoarthritis, and how we can use exercise and empower patients to actively self-manage the condition for example with the use of new digital technology and exercise application, with the overall goal of improving quality of life in individuals living with osteoarthritis. We got to meet the great research team of University of Bath, and probably the best thing was to meet this group of very talented, like-minded individuals that I'm sure I will make great friends with, and got to share our internship projects, all around fascinating stuff!! Grateful to be part of this group and looking forward to similar experiences in the coming weeks!"
Fellow WIOC graduate, Sam, also had very positive comments about the day, "It was a fantastic start to the internship, I really enjoyed the induction day. We met the other interns, who are like minded and it was great to see the range of professions involved and learn about their studies. The event in Bath was excellent all round, the lectures were really interesting, particularly the ones about how technology is being used to help measure disease progress in Ankylosing Spondylitis with EMG and motion sensors as well as creating a 'Fitbit' type app for monitoring and helping self management of people with chronic knee pain or osteoarthritis. It was great to connect with the other researchers and also to discuss the role of Chiropractic and what we do. I think we helped to change a few minds about misconceptions of Chiropractic which I always love doing!"
These sentiments were echoed by Savanna, who graduated from AECC University College just last week, and explained how "it was great to meet my fellow interns and attend the day's informative talks led by impressive academics".
The CRC is delighted to have enabled participation in this initiative for a second year running, and to be providing funding. We would like to wish Sam, Perttu and Savanna the very best of luck over the next few weeks. We would also like to thank their chiropractic research supervisors at AECC UC, WIOC and University of Southampton who will be assisting the interns with the research projects. This initiative not only provides the interns with essential research skills that will carry them through into a future clinical research career, but will also allow the development of an essential network of researchers and academics within the wider healthcare community at a number of very credible UK academic institutions, each with a robust reputation for MSK research.
We look forward to hearing more from Savanna, Sam and Perttu over the next few weeks as they undertake their research studies and attend training days at universities of Oxford, Southampton, Loughborough, Leeds and Bath.